For several years now Jana Kristin and I have been talking about sailing our boat A Mi Manera from the Thousand Islands down the St. Lawrence to Montreal.  For us this would be the second leg of the so-called golden triangle:  cruising down the Rideau Canal from Ottawa to Kingston, down the St. Lawrence from Kingston to Montreal, and then back up the Ottawa River to the nation's capital.  We had already done the Rideau Canal more than a dozen times, and had ventured westward up the Trent-Severn Canal into Georgian Bay for several years, but had never made it all the way eastward into Quebec.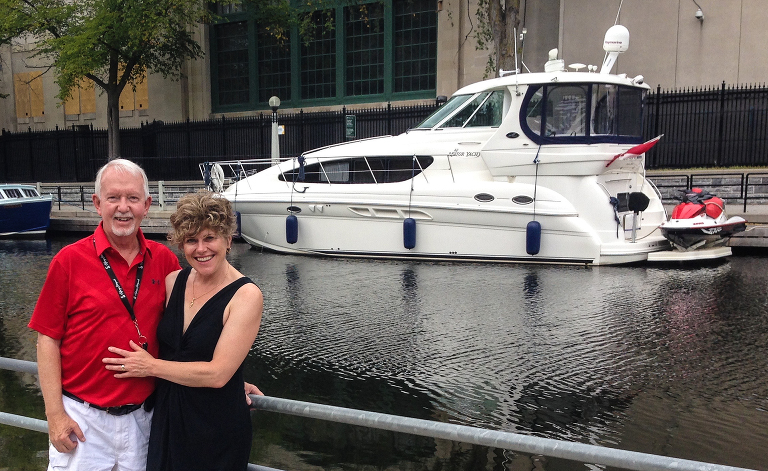 Travelling long distances by boat can be a logistics nightmare for prairie landlubbers like us.  There's always the uncertainty of where to stay (many marinas are full during the weekend), where to get fuel (most marinas do not sell diesel fuel), how far we can go until the waste tank is full (an issue that can become critical if you're not paying attention), and how our schedule might change if the weather is inclement or the boat breaks down.  Add to these our need to fly back to Calgary for specific commitments and you pretty well have to carry out a full blown risk assessment before even thinking about setting out.
We had heard that travelling in Quebec can be a bit of an adventure, partly due to the many Seaway locks we'd have to pass through, and partly due to the tricky currents in the river near Montreal (in one location they actually go in circle).  Add to this my poorly remembered french vocabulary and my even poorer hearing and we had the makings of a natural disaster.
Local knowledge is always one of the primary keys to safe boating, and an adventure like this would be taking us into unfamiliar territory where the opportunity for things to go wrong can be significant.  Attempts to glean some of this knowledge from other boaters in our home marina at Gananoque usually started out with "of course you can do it", then transitioned to "but you have to watch out for …", and ended with "well no I haven't personally gone there".
Getting from Gananoque to Cornwall to see my sister and her husband gave us a good taste of what was to come. Navigating the main shipping channel along the St. Lawrence poses few problems, as long as pleasure boaters remember that "sharing the channel" actually means always yielding the right of way to the much larger cargo vessels that navigate through to the Great Lakes.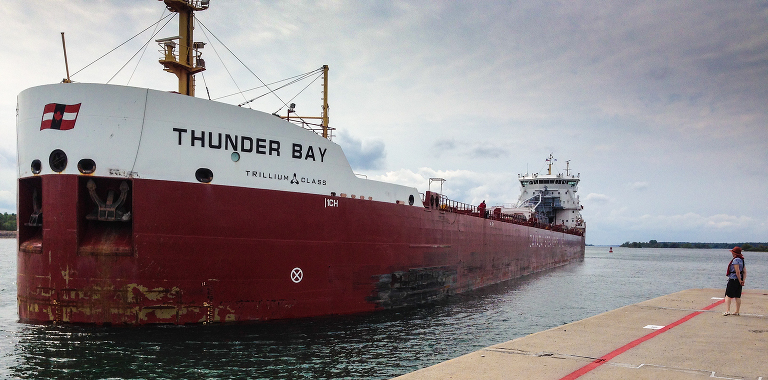 Unlike the Parks Canada locks along the Rideau Canal, the St. Lawrence Seaway does not operate on a "first come, first served" basis.  Pleasure boaters can be held up for several hours at each lock while commercial traffic passes through.  At the U.S.A. Snell lock just upstream from Cornwall, for instance, we waited more than 4 hours in deteriorating weather while several freighters transited ahead of us.  This resulted in an evening arrival at the unfamiliar Marina 200 in rain and very poor visibility, not what we anticipated when we set out earlier that day.  As my night vision is already poor, the stress levels were higher than usual and I had to rely  entirely on Admiral Jana to guide our boat through the buoys to our destination.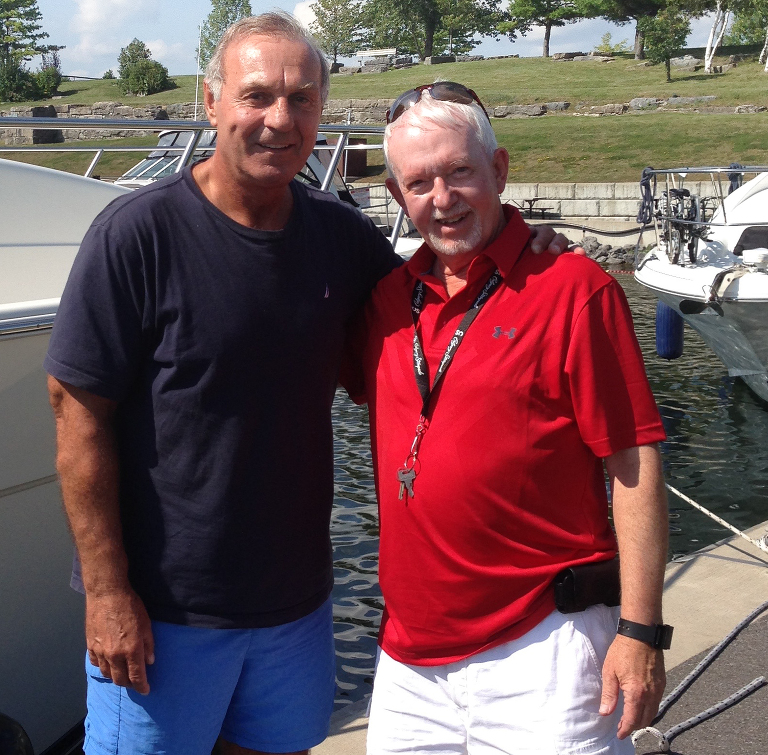 The following day the retired Montreal Canadiens hockey star Guy Lafleur arrived on his Meridian 580, aptly named OCEAN'S 10.  As I helped him tie up in the adjacent berth, it occurred to me that finally here was a chance to obtain some local knowledge regarding the next leg of our journey!
Guy was more than happy to come over to our boat so we could pour over the hydrographic charts together.  After only a couple of conversations Guy and his lovely wife Lise persuaded us to revise our original schedule and accompany them for the next few days to their home marina at Montreal's Old Port.  The uncertainty of slip availability in Montreal was instantly solved when Guy phoned the marina and in his best french requested a spot for "mes amis".  What Montrealer could possibly refuse Guy Lafleur?
The weather was perfect as we navigated together to Valleyfield, where he had reserved a couple of slips at the beautiful Vieux Canal de Beauharnois.  The entrance to the old canal is guarded by a couple of low bridges which must be raised to let bigger boats pass.  Guy deftly guided OCEAN's 10 wide beam through the narrow entrance with only a couple of feet to spare on each side.  With shops and restaurants on one side of the canal, an extensive park system on the other, and a patio bar right on the boardwalk, Vieux Canal proved to be the perfect place to spend our first night in Quebec.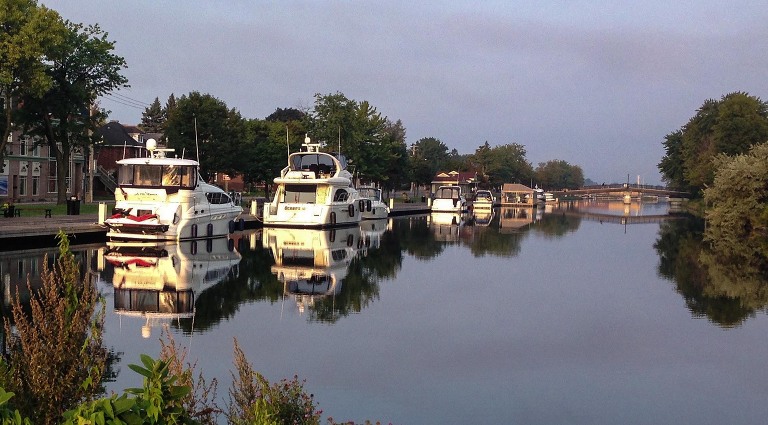 The next day we left at 8 am sharp to catch the first opening of the bridge at the entrance to the Beauharnois Canal. Accompanied by the sailing yacht O Canada, we traversed the locks alongside Guy's bigger boat, and we were greatly amused at how keen the dock hands were to engage Guy in conversation about hockey and snap numerous pictures. Always the perfect gentleman, he took it all in stride, confirming his reputation as one of the Canadiens' best ambassadors.
By late afternoon we had made it to the St. Lambert locks, only an hour or so from our destination if everything would go well.  Unfortunately the Seaway gods were not smiling:  the lock was closed for maintenance and there were now several commercial vessels waiting to transit.  Once the maintenance was completed, a series of three trains began to use the bridge over the lock so the bridge could not be raised to permit the cargo vessels to pass through.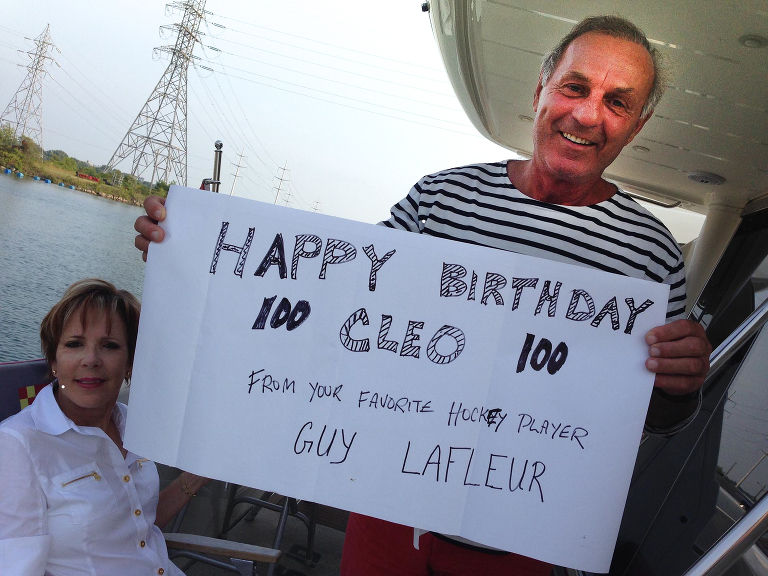 As the delay continued, it afforded us some time to make a birthday card for my friend Doug King's mom Cleo, who was turning 100 years old on the same day.  Like Doug, she is a diehard Canadiens fan.
She was particularly pleased, therefore, to receive a special greeting from one of her all-time favourite players while celebrating with friends and family in Calgary.
After almost 4 hours of waiting, the last cargo ship exited and we were able to proceed.  By now, however, it was night time.  Visibility in the lock was very poor, and we had a close call when a huge cargo vessel suddenly emerged from the darkness directly in front of us.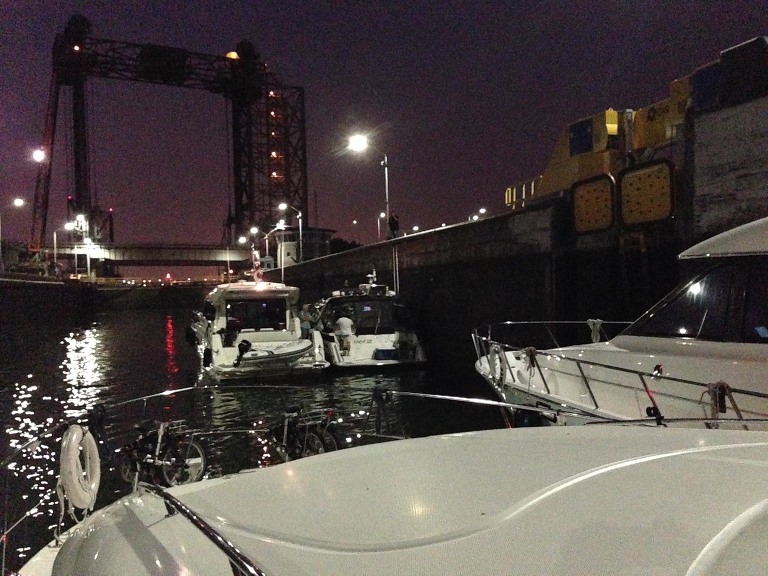 All the small boats travelling ahead of us suddenly scattered, alerting us to the danger, but the sailboat behind us failed to see the laker, and had to dodge at the last moment to avoid being run over.
Beyond the locks the channel was marked by only a few lighted buoys, difficult to discern against the confusing lights of the city.
The electronic navigation charts at the helm were so bright that they completely destroyed my night vision.  The easy solution was simply to cover them up, but now I had no idea where there was safe water for navigation.  This left us with only one option:  go into "follow Guy" mode,  not the best idea in unfamiliar waters where the currents can be treacherous and small darkened craft are constantly cutting across your path.  With only his running lights on, Guy's Merdian was barely discernible against the city lights and the blackness of the night.
Sweating anxiously, I again had to depend on the eagle-eyed Admiral Jana to use the binoculars to follow his course under the bridges and between the buoys.  Faced with confusing currents, no chart plotter, and poor visibility, my heart pounded as I struggled to maintain a steady course under her guidance, which consisted mostly of shouts of  "SLOW DOWN, YOU'RE TOO CLOSE!" alternating with "SPEED UP, YOU'RE LOSING HIM!
At last we breathed a sigh of relief when he finally turned in to a well lit marina at Port d'escale du Vieux-Port de Montreal. Here the water was calm, the wind was still, and an efficient dock hand  directed us to our new slip for the night.  The young man couldn't help remarking that our slip had been previously arranged by Guy Lafleur himself, the Old Port's "signature client", and "the nicest captain in the marina."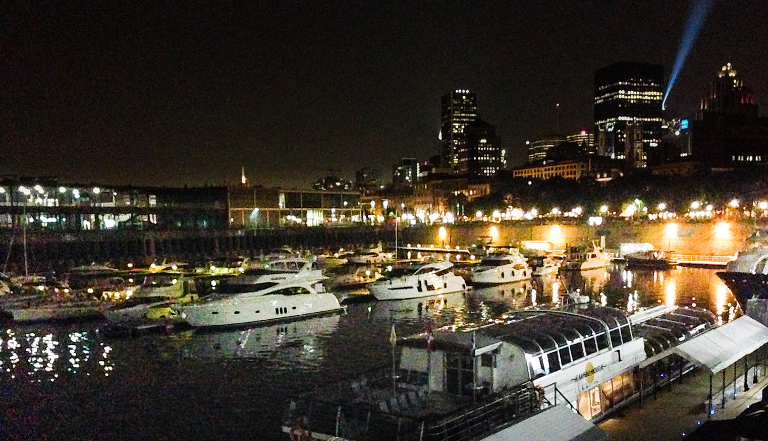 Guy and Lise had earlier invited us to join them for dinner in Montreal.  After our 14 hour journey everyone was stressed and tired and we thought about cancelling.  Guy would hear none of it, however, and led us to one of his favourite nearby restaurants in Old Montreal called La Maree.
After more than a few adult beverages and an excellent meal we were all happily revived, laughing and joking about the trials and tribulations of boating and life in general.  It was well past midnight when we noticed that all the other patrons had left the restaurant, and the staff were just waiting for us to move on.
As we walked back to our boats, I remarked to Guy that sailing to Montreal and staying at the Old Port had been one of the items on my bucket list.  I never imagined, however, just how big of an adventure it would turn out to be in the dark.
The uncertainties of seemingly endless delays at the locks, fighting the swirling St. Lawrence currents in the dark, and navigating the language barrier at the francophone marinas had made the adventure easier because we had made new friends who were alongside to clear a path, lead us safely and make us laugh till it hurt when it was all done.
Thank you Guy and Lise Lafleur.  You're a very classy couple…and good mariners too.  We would't have wanted to have this adventure without you.