Hong Kong is a natural stopping off point for travellers flying from North America to Asia. Since most flights arrive in the evening, and many locals speak English, it's a handy place to quickly get reoriented to a new time zone, confident that the sheets will be clean, the bathrooms will be disinfected, and the food won't (generally) make you sick.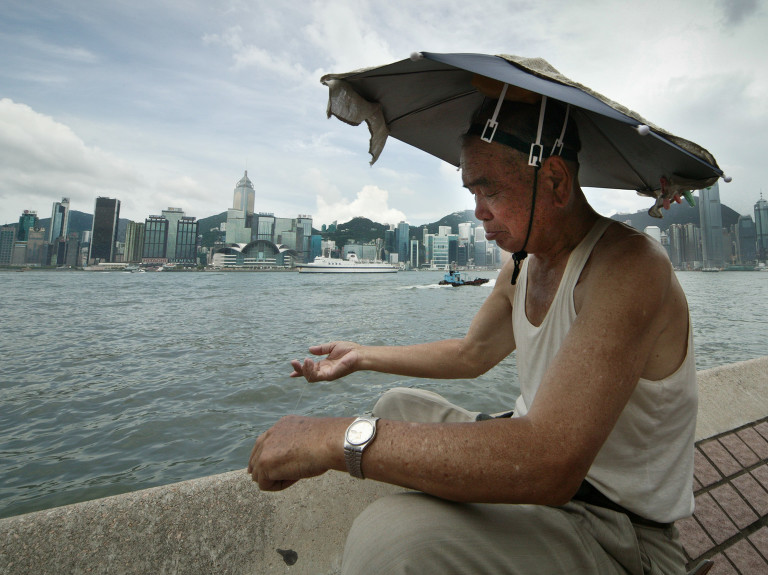 The city rivals New York and London as a world financial center and, as you might expect, the oceanfront skyline is characterized by extraordinary architecture where no one turns off the lights at night to save money.
As photographers who have visited Hong Kong many times, Jana and I find that the most popular tourist locations like the big Buddha or the Temple Street Night Market no longer hold nearly so much of an attraction, unless we're posting our travels on Twitter or Instagram.
Jana does, however, make me return time and again to ride the Central–Mid-Levels Escalator up towards Victoria Peak.  As the longest, outdoor covered escalator system in the world, she treats it as the Chinese version of the hop-on/hop-off bus, allowing us to spend literally days perusing the myriad shops, tea houses and Buddhist temples on the side of the mountain.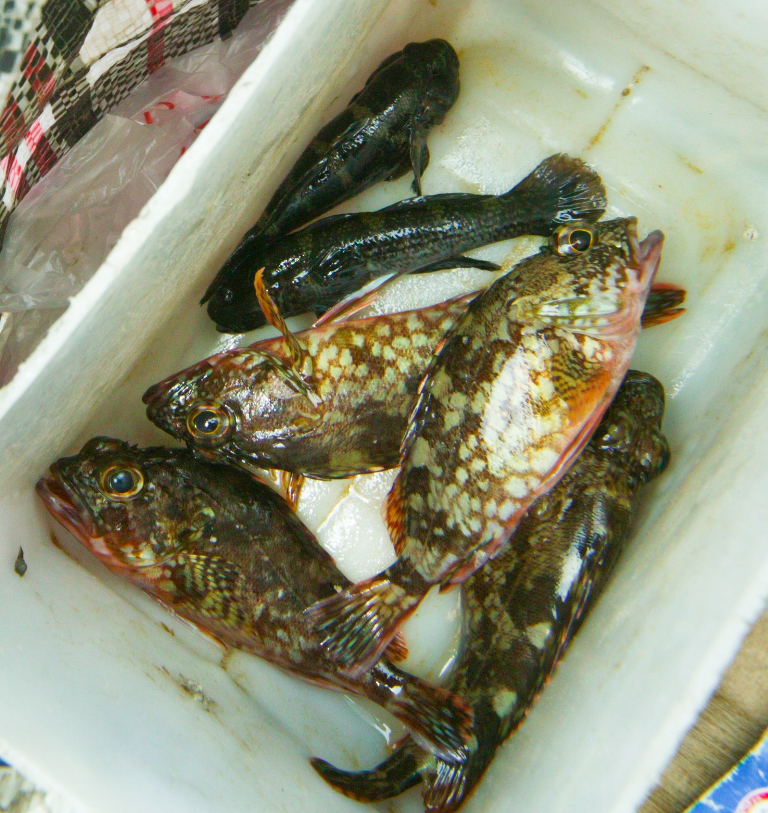 In addition to commerce, the city's vibrant character is rooted in the more than 7 million Hongkongers who are compressed like canned sardines into about 1100 km². This means that there is no end of opportunities to seek out and photograph interesting people.
One of the unique things about Hong Kong is that it has one of the highest per capita GDP's, but also some of the most severe income inequality.
As a consequence, the rich exist right alongside the very poor.
Shops along the famous Nathan Road sell $50,000 diamond studded Rolex watches and jeans for $500 US while half naked men sell newspapers for pennies by the curb side.
Mercedes and BMW's clog the narrow streets and alleys as vendors push their overloaded hand carts to their night market stalls.
All this while the locals congregate along the seawall next to Tsim Sha Tsui to fish for a meager dinner in the polluted waters of Hong Kong harbour.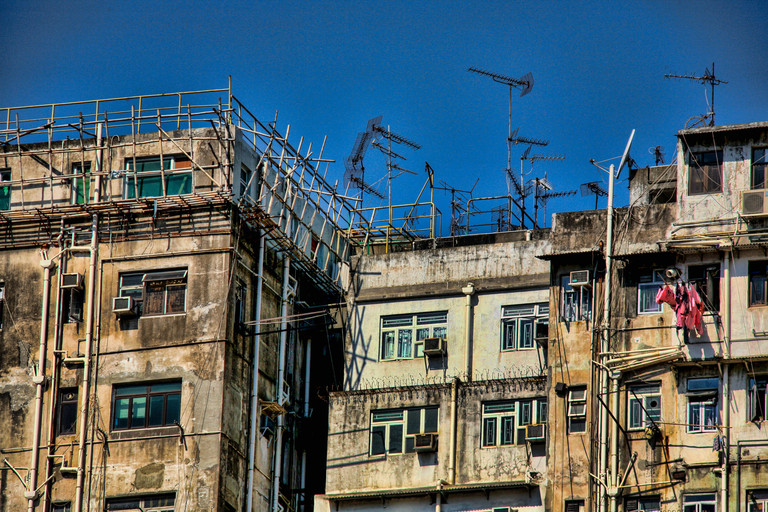 There is no doubt that the high rise architecture is certainly world class.
It's not unusual, however, to find magnificent new structures standing side by side with old (now lower income) developments: a phalanx of TV antennas stands guard on every roof top, air conditioners poke their noisy backsides out of every window, and everywhere the site of wet underwear drying on balconies or laundry poles provides the only splash of colour on well-weathered facades.
Documenting these two juxtaposed worlds is a continuing photographic adventure that draws us back to Hong Kong time after time.
One of the most luxurious places to stay in Kowloon is the five-star Peninsula Hotel. It sits almost on the waterfront and is known for it's pricey room rates and succulent buffet breakfasts.
During the wooing phase of our relationship, I tried to impress Jana by booking the Peninsula for a weekend stopover on our way to Beijing.
After a restless night's sleep, we got up very early and went downstairs in search of some food. Like the rooms, the hotel's restaurant was palatially appointed with gleaming silverware and white table cloths, and the uniformed staff moved smartly to welcome us to a prime table overlooking the harbour.
As she quickly poured the coffee, our server directed us in flawless English to the hotel's signature buffet:  succulent pastries, fresh fruit, eggs any-way-you-want-them, meats from around the world, and fragrant Chinese noodles cooked four different ways.  After our long flight our appetites were still poor, but our mouths began to water as the elegance of the presentation assaulted our senses, and we thought seriously about attacking the buffet.  When we opened the menu, however, I was flabbergasted to discover that breakfast was going to cost us $75 each, even if we just had toast and coffee.
Of course I knew that this was one of the most expensive hotels in Hong Kong, but these prices were utterly ridiculous, even for wooing time.
Feeling totally embarrassed, I persuaded Jana to abandon her now half cup of coffee so we could duck out of the hotel to look for something more reasonable.
Outside the sun was just rising and almost all the shops were still shuttered.
"Stick with me, kid" I boasted; "I know my way around this town!"
And sure enough, after a not-so-short walk along Hankow Road I led us to a little greasy spoon with one empty grey table remaining.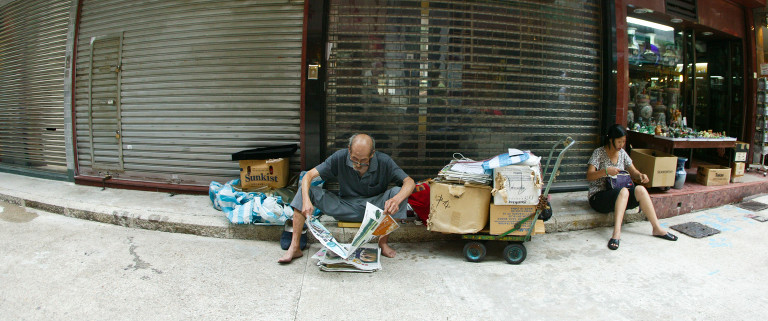 All the other patrons were Chinese ("Must be good food if the locals patronize it"), and they looked at us with much curiosity as we sat down and placed our cameras on the floor.
With our appetites now recovered from the brisk walk, we decided to order a real breakfast.  Unfortunately the brief, dirty menu was all in Cantonese and the sweaty proprietor didn't speak English.  Luckily for us the word for coffee transcends all languages, including Cantonese.
My attempt to convey "One egg, easy over, with brown toast" was another matter.
After a considerable delay the eggs finally arrived…sunny side up, only half cooked and very runny, sitting on a couple of slices of thin, white bread. Needless to say both plates went untouched while we finished the thick coffee and paid the five dollar bill.
As we walked back to the hotel, still hungry, we noticed a McDonald's restaurant not far from the hotel, and vowed the next day to sleep in and then go there for breakfast, rather than paying the exorbitant prices at our hotel.
A couple of days later, on leaving the hotel, the desk clerk asked us if we enjoyed our stay. "It was a fantastic experience," I said, "but I certainly don't think you should have to pay $75 for a breakfast of toast and coffee."
"But sir, there's no need for you to pay", she replied. "At the Peninsula the full breakfast buffet is included free with your room."
As Jana went wide-eyed and gave me that "are you kidding me?" look, I could only mutter something about being sure to ask about breakfast the next time.
And thus I learned (once again) Life Lesson #274: Just because things don't make sense to you, they may not actually be senseless. It could be that you just don't have enough information. Given a scenario that appears to be ridiculous, a wise person will ask questions, not jump to conclusions.
As physicists like to point out, there is much order in the universe.
It's a lesson that I still try to remember every day.
To see more of my photos of Hong Kong click here.