I love travelling and photographing far away places. As a digital journalist I'm always trying to "capture the moment" in new and unique ways, especially when it involves the culture and daily life of the people I meet along the way.
What I'm not so passionate about is focusing my time and creative energy on the so-called "major attractions" that inevitably wind up as the heart of most tourist itineraries, those "must see" destinations that are promoted in every travel brochure.
Sure I know that when in Paris you must go to the Eifel Tower, and you can't possibly miss the Guggenheim Museum in New York, or the Shwedagon Pagoda in Yangon; but I also know that my photographs of these famous sites seldom differ from the hundreds of thousands which already flood the internet.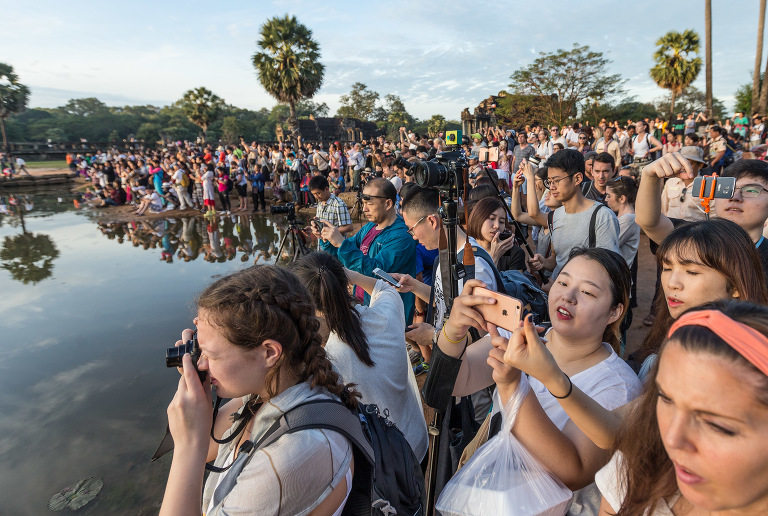 On the other hand, I recognize that it makes no sense to spend time and money to travel to these locations and NOT take a photo or two, even if it's just for the record.
Okay, I admit it. I'm one of those people who simply loves those little pins that LIGHTROOM automatically installs on the world map if your camera has a built in GPS.  A part of me is definitely a been-there-done-that-got-the-picture kind of guy. But as soon as the for-the-record shots are safely on the memory card, you'll find me anxiously looking elsewhere for the one in a thousand bonus image that will stand out in my portfolio.
Let me give some examples.
Virtually every visitor to Cambodia goes to see the ancient Buddhist/Hindu temples near Siem Reap, the most famous of which is Angkor Wat. Unless you're on a "get off the bus, get on the bus" tour where your schedule is tightly controlled, tradition absolutely demands that you photograph this famous temple complex at sunrise, beautifully reflected in the dark pool which guards the entrance, even though, as the 659,659 photos on FLIKR attest, the blue sky is often obscured by rain clouds or the constant haze that blankets much of southeast Asia.
Because it's written in stone in all the guidebooks, literally thousands of tourists in Siem Reap will set their alarms each evening to rise in the dark and lug their tripods and selfie sticks through the night mist for a chance to leave their footprints on Angkor Wat's shore. Those who arrive before 4 am can usually get a front row position. Those sleepy heads that don't make it until 4:45 am are guaranteed to be at least five rows back, all because they stopped for a wake-up coffee to go.
Once everyone is in place there's not much to do but stand and wait for a couple of hours, chatting with the other travellers ("Hey, you're from Britain? My cousin lives in London; do you know him?") and praying that the night's dark blanket will eventually be thrown off in favour of a cloudless sky.
The early arrivals tend to be the most apprehensive, setting and resetting their cameras as they worry:  "Should I be on manual?  What f/stop are you using?  My camera won't focus in the dark!  Watch out you're bumping my tripod!" but as the darkness melts away in the predawn sky the mood gradually lightens, each traveller anticipating this once in a lifetime opportunity to capture a mystical moment.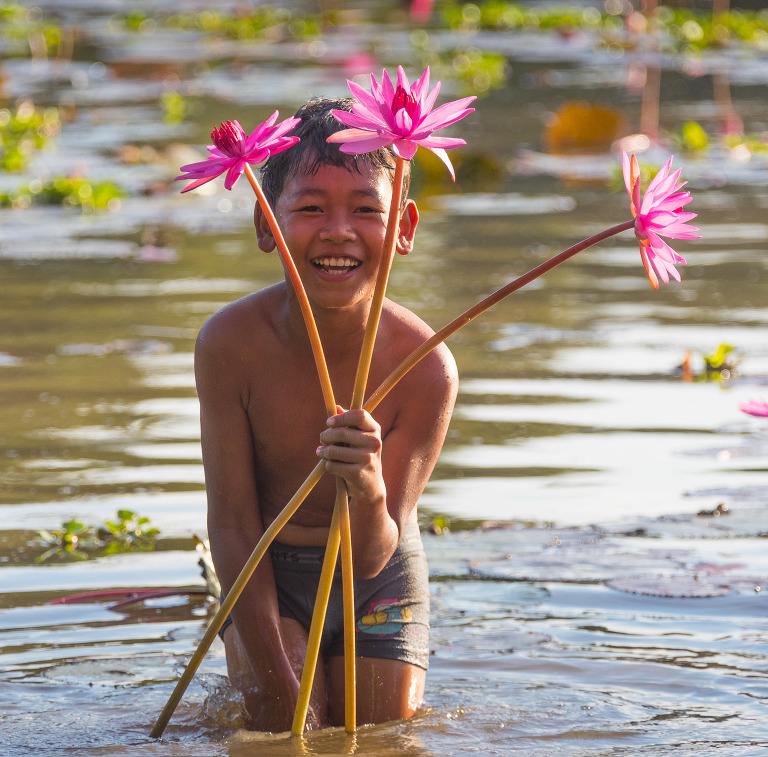 Personally I don't get too enthused about sunrises.  Perhaps it's just my risk/reward viewpoint forged by decades of engineering calculations, but I find sunrises to be entirely too unpredictable, and the effort required to waken and shower in the dark is seldom worth the return.
I prefer sunsets, where any potential grandeur in the sky can be reliably predicted while you're downing a beer at lunch time, thereby allowing ample opportunity to optimize the rest of your day.
And so it came to pass that a recent decision to attend the sunrise at Angkor Wat was not entirely mine.  Besides being a passionate photographer, my lovely spouse hates to pass up any opportunity for mystical moments.  She, together with our extraordinary Vietnamese guide Son Nguyen, an award winning travel photographer and veteran visitor to Siem Reap, argued successfully that this was a must do thing for all of us.
The next morning we dutifully trekked with bouncing flashlights along the path to Angkor Wat, our guide skillfully maneuvering us in an early morning drizzle to a front row place on the muddy shoreline.
Of course when the dawn finally broke it was (not unexpectedly) somewhat less than perfect, but thousands of sleepy travellers still ooo-ed and aaw-ed in unison as the sun peeked over the temple, forming a nice star if you (like us thanks to Son) had the proper aperture and were standing in the right location.
An experience to be enjoyed?  Certainly, even without the mystical part.
A cover photo for the next issue of National Geographic?  Hardly.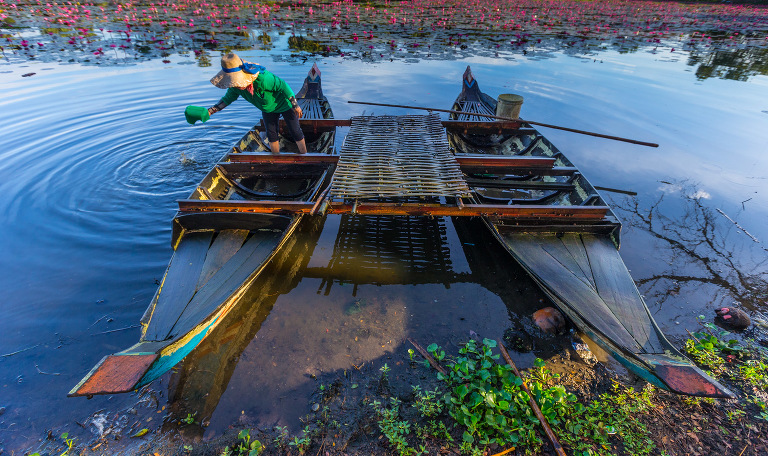 When we finally picked up our tripods Son directed us away from the crowds making their way into the temple and led us instead across the grounds for a short distance.
Suddenly the hairy hoards of other tourists miraculously vanished and we were left by ourselves to enjoy an entirely different side of Angkor Wat: local boys swimming in a lake full of water lilies; maintenance workers setting up their boats for the morning cleanup; and shiny headed monks doing their duties at a nearby pagoda.
Bonus images!
We spent the next couple of hours photographing the everyday life of Cambodians who live and work near the temple; magical images that burned into our consciousness the meaning of Angkor Wat as a historical gathering place, as much cultural as religious.
These were not the classic temple-at-sunrise scenics we expected, but they turned out to be the images that now define the whole experience for us.
This scenario repeated itself almost daily.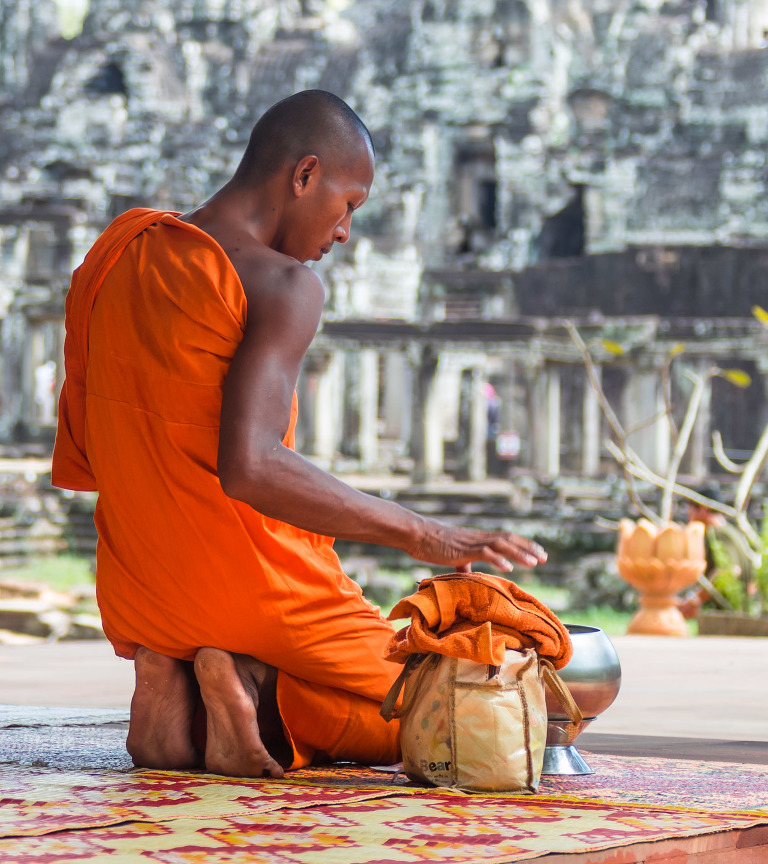 Like Siem Reap, a visit to Hanoi's famous Temple of Literature is a must-see for the city's tourists. The 11th century facility was originally dedicated to sages and scholars, and now hosts the Imperial Academy, Vietnam's first national university.
During our visit we saw cell phones and DSLRs gobbling up terabytes of memory trying to capture the marvelous front gate, or the Thien Quang well, or the famous Turtle Steles, or the golden statues.
A few quick grab shots was all it took for me to record these features.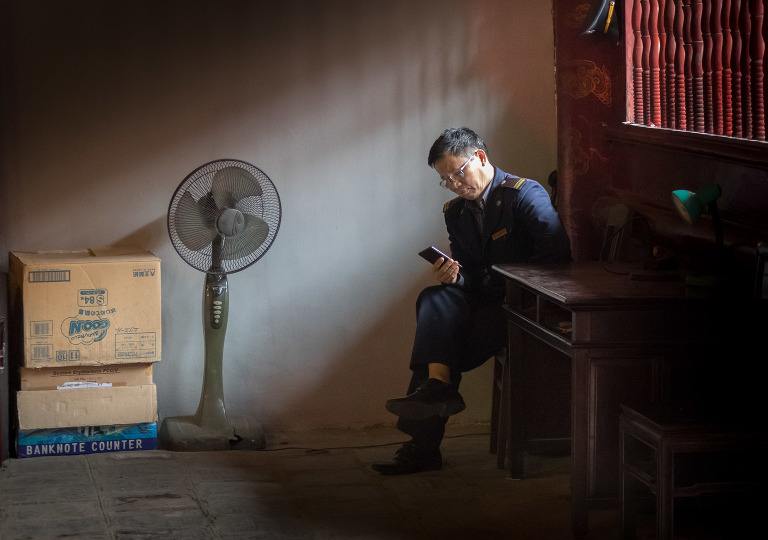 I was looking instead for those bonus images that might capture the daily life of the Vietnamese.
And suddenly there it was… a security guard, completely absorbed in his electronic novel as he basked in the soft afternoon light.
He never looked up as I clicked off a dozen shots.
I'm sure we could have walked away with the golden statue and he wouldn't have noticed.
From a photographic point of view, exploring national museums while abroad can often be incredibly dull.
Often there are rules stating no photographs or no tripods or no flash.  The light is generally poor and you often have to shoot through glass partitions.
I used to think that these mandatory museum visits that clog up many tourist itineraries were a waste of time, and on more than one occasion I've been known to remain outside to do some street shooting while the local guide babbled on inside.
It was the National Museum in Phnom Penh that finally changed my mind.  This facility has dozens of open windows providing good light.  Many of the museum's treasures are large enough not to be enclosed, and photography is permitted.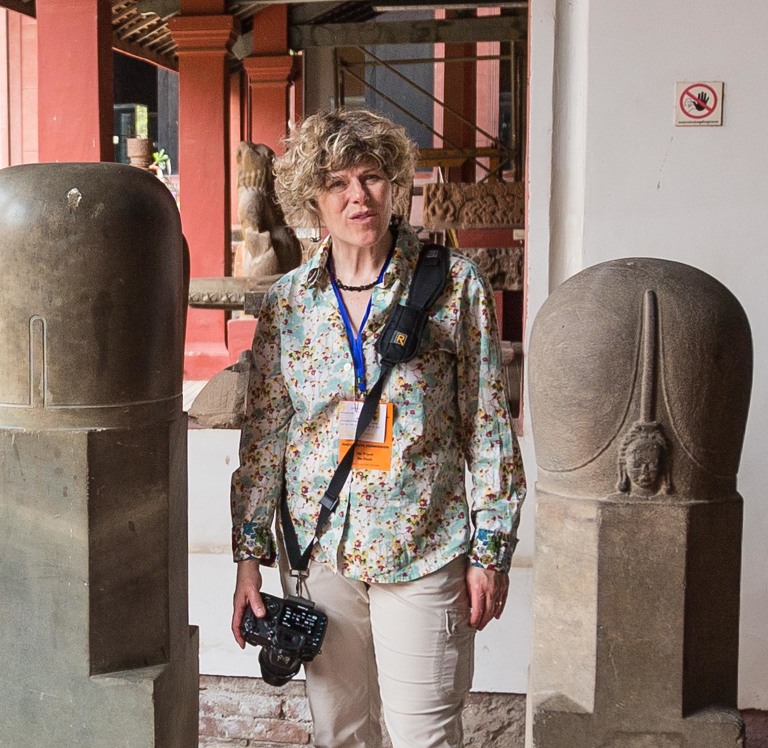 Still, except for some giant penises there didn't seem to be many unique exhibits worth photographing.
In contrast, though, bonus opportunities abounded.
There was a white Buddha crying pigeon poop, a large rat scurrying in and out of the terrace hedge, and a myriad of other foreigners who managed to selfie their way into almost all of my architecture shots.
Young monks kneeling by a fish pond attracted plenty of attention from the other tourists, their bright robes standing out against the drabness of the museum.
I took a few shots, but felt that there was nothing dynamic there.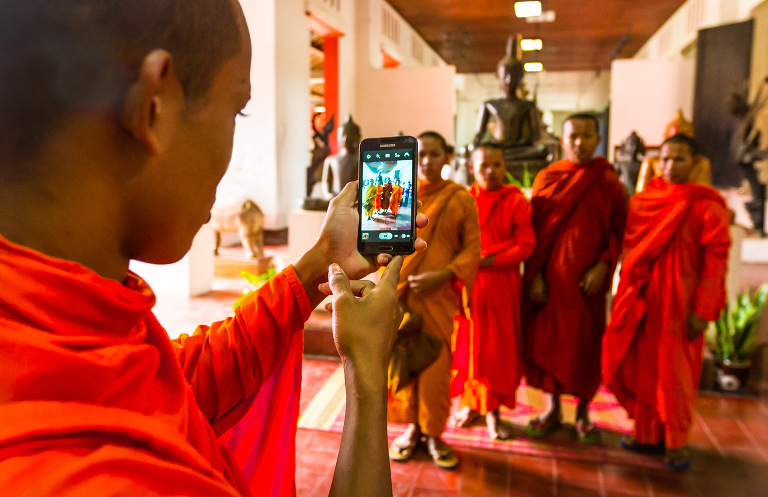 On a hunch I followed the monks around for a while, hoping to get a reaction when they reached the giant penises. It never played out the way I thought it would, but I did catch them photographing each other with three Buddhas in the background.  Bonus!
And that's the way I'll remember Cambodia's National Museum.
After many years of vacillating back and forth, I'm persuaded that it can sometimes be worthwhile to include the iconic tourist sites in our travel itineraries.  Although I have little expectation that I'll bring home a new and different photo of the main attraction (especially if it's only a one-day visit), just being there affords me a valuable opportunity to look for bonus images, those great secondary targets that might normally be overlooked.
If, like me, you enjoy capturing people going about their daily lives, these sites are the place to go for a virtual photographic buffet: workers managing the site, local vendors hawking their wares to travellers, and even the tourists themselves can provide plenty of fodder for the discerning photographer.
The secret is simply to slip away from the others and seek out your own perspective.  Look for those novel viewpoints that aren't often captured.
If you're lucky you may ultimately walk away with digital treasures that represent the richest part of your travel experiences.